OUT NOW! Claas Reimer – Heartbeat Remixes Vol. 1 (CLSRM 017)
For the labels 10th anniversary we are really happy to present some special releases with remixes from several great producers in electronic music around Europe:
Hailing from Magdeburg, Germany Stromlinie stands for high quality and soulful electronic music in many different directions. He has chosen Tiger to rework it as a Progressive Breaks track in a minimal way and his unique style and sound.
Kellie Sakkaku is the project of Mr. Lookman and Pale Penguin. Long time friends and partners in various projects, both of them are well known producers and djs in the Greek electronic scence for more than 20 years now. Their interpretation of the track Starlight is a slow Acid mover coming up with a relaxed weirdness and reminds a bit of some older Cristian Vogel productions.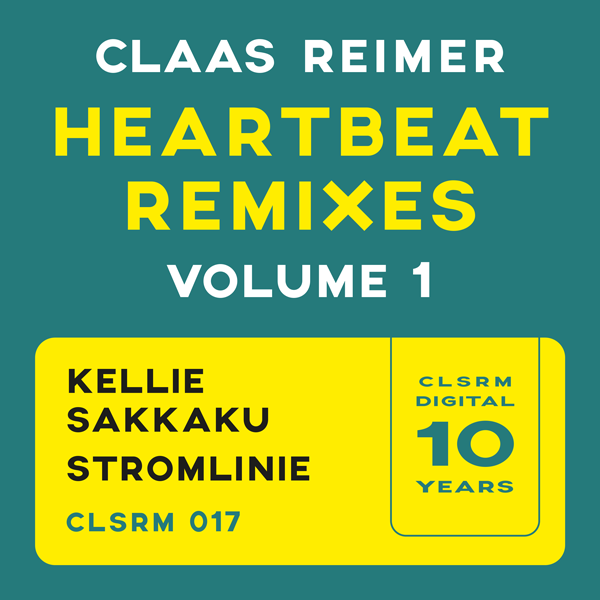 Feedback so far
Wicked Stuff. Love Nicky's progressive deep journey and Kellie Sakkaku is absolute dope. Love this mysterious vibe, slow rhythm and wicked acid bassline wow! Thanks for sending

Borka & The Gang (Heideton Records, Cocoon Recordings)
Nice remixes, thanks for sending!

Blanilla (Mecanoplastica Records)
Stellar production, love them both! Thank you for sending

Stephen Cole (Deep Garnet Records)
Thnx for this huge promo bro, both tracks are nice and very different. My fav is the Stromlinie rmx, he made an awesome dancfloor remix. Keep on going warrior. Greetz

Steve Fastbinder (Drakkar Recordings)
Great remixes with diversity! Stromlinie delivers a nice trippy proggy breaks remix and Kellie Sakkaku do what they know best, comfy exotic deep electronica for easy listening and not only!

Deeply Unexpected (Deep Garnet Records, Ricochet Records)
Nice remixes, cool stuff!

Sabiani (Digital Paradox Records, Deep Garnet Records)
NOTE: If you use this website, data will be transmitted to Bandcamp and services linked to you by Bandcamp (e.g. Facebook). Bandcamp will link the website you are visiting to your Bandcamp account and other users will learn about your visit to this website. Privacy
Share this page here: