OUT NOW! CLSRM Digital R3MIX3D Compilation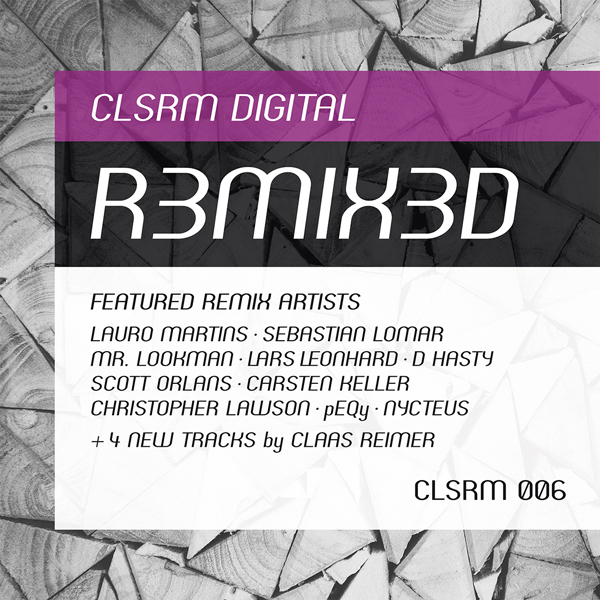 The idea behind this project was to offer a different point of view to the CLSRM Digital backstock. The compilation is featuring several styles of electronic music: You will find relaxed tracks for home listening as well as stuff for hot party nights. 10 Artists from Germany, Greece and USA have created an awesome collection of musical impressions. On top label owner Claas Reimer added 4 fresh original tracks.
The mastering was done by Carsten Dämbkes who is also responsible for mastering of Hardfloor tracks. WMDB Systems made this possible.
Get it on iTunes, Beatport, Amazon and many more online retailers!
Check out CLSRM Digital on beatport
Playlist
1 – Claas Reimer – District 9 (Lars Leonhard Remix)
Lars Leonhard from Düsseldorf has a passion for Ambient and Dubhouse. Beside releasing on many different labels he is also composing soundtracks for the NASA. He turned District 9 into an atmospheric piece of electronic music with soundscapes, flying effects and percussions.
2 – Claas Reimer – Dreamz (Lauro Martins Remix)
Lauro Martins is hailing from LA. With his awesome interpretation the brazilian born guy delivers a bass driven deep and minimal Tech groover…
3 – Claas Reimer – Pick Up (Scott Orlans Remix)
Los Angeles, USA is the place of Scott Orlans, the man for funky DeepHouse and TechHouse. He added his personal way of relaxed funkyness to the track Pick up and offers us a shiny summer track.
4 – Claas Reimer – Sake
Sake will keep you moving with twisted grooves, electronic percussion, deep bass, funky drops and some typical Claas Reimer space sounds.
5 – Claas Reimer – Nightshift (Mr. Lookman Remix)
Mr. Lookman from Athens created a great piece of TechHouse from the original sounds of Nightshift which simply makes you wanna dance.
6 – Claas Reimer – Physical-Reaction (Sebastian Lomar Remix)
Sebastian Lomar from Germany releases on many different labels and is running his own imprint Mad Music Recordings. He transformed Physical reaction into a stomping and funky TechHouse hybrid.
7 – Claas Reimer – Black Gold
This Techhouse track is coming up with a driving bassline, sweet chords and dub elements for pure dancing pleasure.
8 – Claas Reimer – Out of the darkness
A strong and forward driven piece of Techno combining dark and positive elements to an explosive mixture.
9 – Claas Reimer – Addicted (Christopher Lawson Remix)
Christopher Lawson turns Addicted into a Techno monster with dark vocals and beats strictly made for the peaktime dance floor – be prepared!
10 – Claas Reimer – Rainforest (Nycteus Remix)
The greek act Nycteus gives you a faster piece of Electro with their interpretation of Rainforest:
weird sounds, crazy drumming and objects from outta space…
11 – Claas Reimer – Gently Squeezed (D Hasty Remix)
Derek Hasty, also from LA, offers you some experimental beats and basslines where he added some melodic stuff and plays with the original sounds of Gently Squeezed.
12 – Claas Reimer – The Grinch (pEQy Remix)
pEQy has worked out a dreamy electronic version with dubby soundscapes, crackling noises and emotional strings.
13 – Claas Reimer – Aus die Maus (Carsten Keller Remix)
Carsten Keller from Stuttgart is known for his theatrical and epic soundscapes. He remixed Aus die Maus and turned it into an epic work with an interesting change in it.
14 – Claas Reimer – Geisterstadt
A relaxed downbeat track with Rhodes, Reggae vocals, a deep walking bassline and sounds of tweeting birds. It`s closing the compilation with an easy summer feeling.